Posted on
By Sarah Collins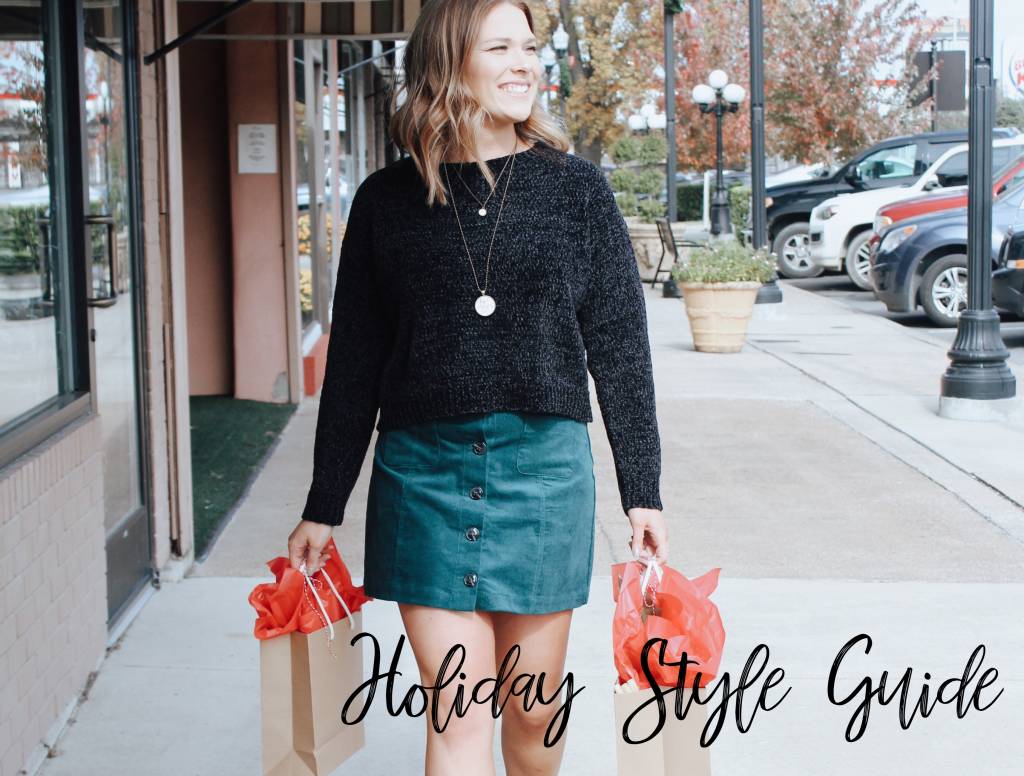 Happy EVERYTHING, friends!
It is the most wonderful time of the year and we are SO excited to show you guys our TOP picks for all things Thanksgiving, Friendsgiving, Christmas, Hanukkah, Kwanza, you name it! What a joyful time...and your outfit should most definitely reflect that JOY! All of the items are linked in the underlined words, or you can find them under our "Holiday Style Guide" tab AND in stores! 
First, I wanted to touch on one of my most favorite holidays... THANKSGIVING! 
My heart still skips a beat when I think about parades on TV, the smells, the tastes, the fellowship, and of course, the Monopoly after we all eat (then, napping, of course). If you're like me, you have the dressier occasions where you feel you may need to step up your fashion game, and then there is the gathering where you just need to look cute enough to get by and your pants BETTER be stretchy for that extra helping of sweet potato casserole (with marshmallows...is there any other way?!)
For the dressier option, pair a cute skirt with some tights and a more comfy shirt. I always try to pick one statement piece in my outfit and then a more subtle piece. In this case, the skirt steals the show with its adorable buttons and pop of color (available in emerald as well!), and while the shirt is still adorable, it doesn't take away from the skirt whatsoever. We have it paired here with an adorable Vintage Sparrow Necklace! Find their jewelry styles in our stores or at thevintagesparrow.com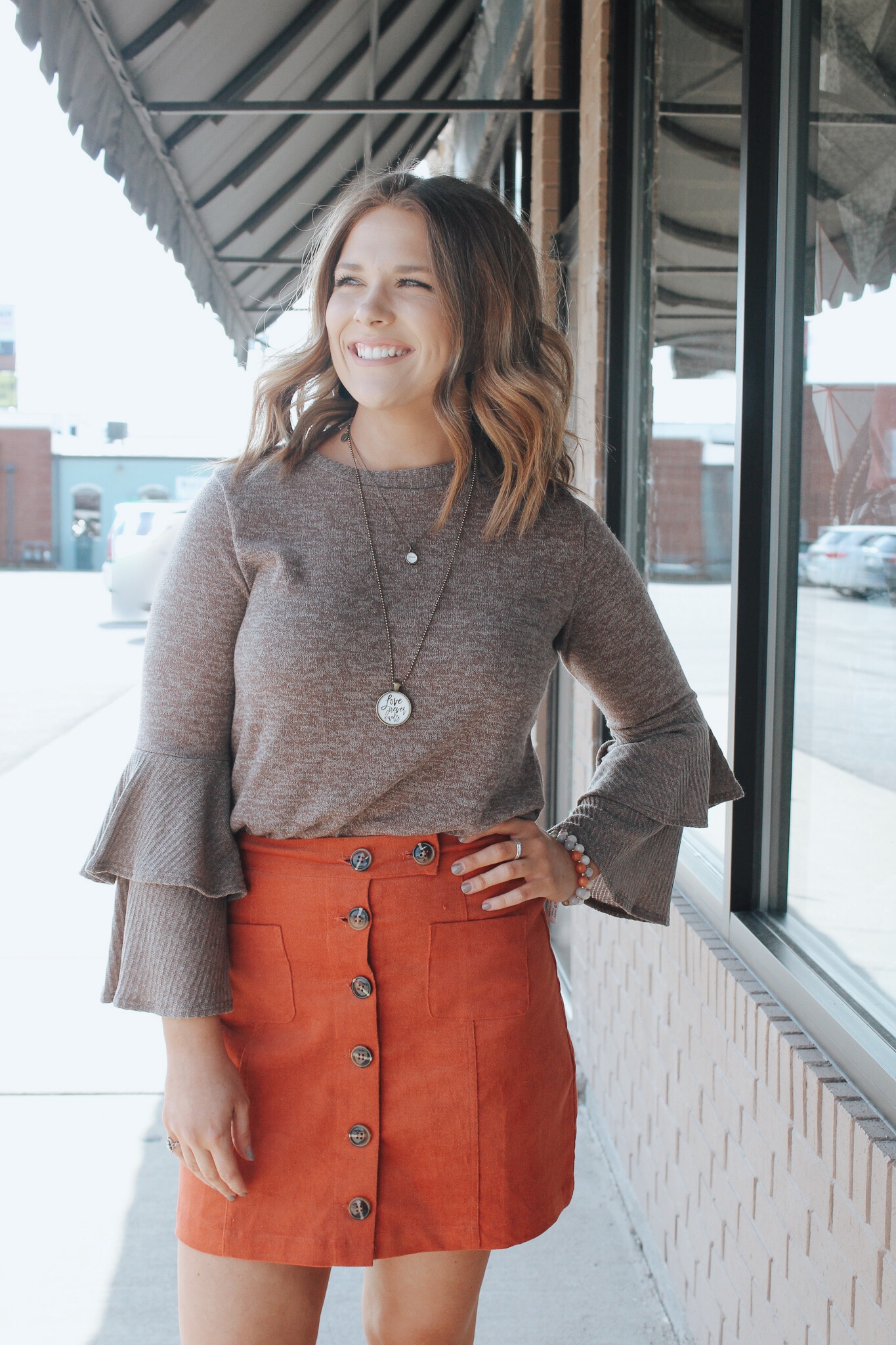 For my casual-cute pick...none other than SPANX leggings! YALL. These are a fashion game changer. They are one of the pieces in my closet that is a higher priced ticket item, but it is beyond justified by the quality and the amount of times I will wear them. We all need to treat ourselves with those special, staple items every now and then!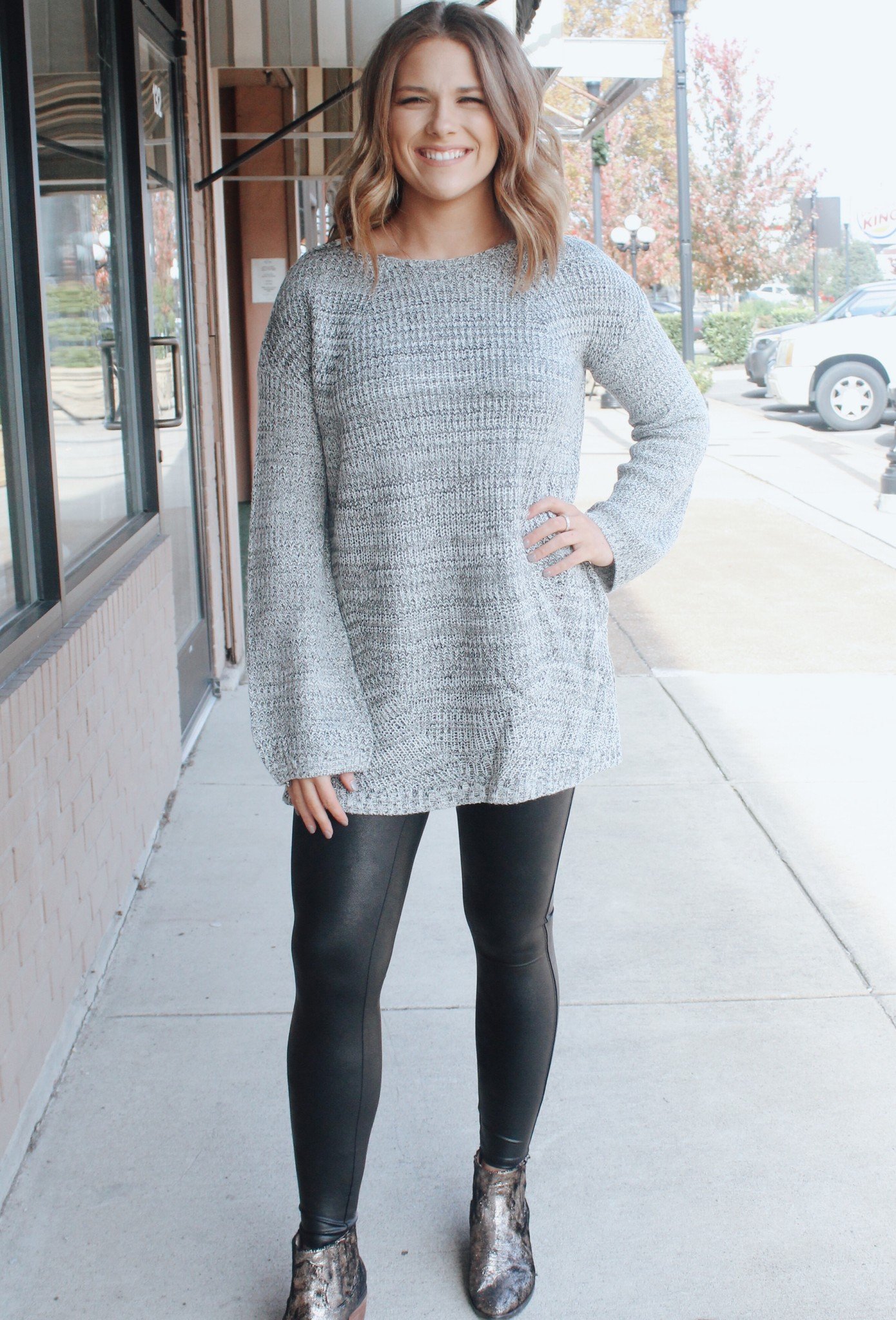 Not only are they the cutest things to wear, but they are SO stretchy and have major tummy control. You seriously won't even believe how your butt will look in these bad boys (not even being weird, just being real LOL). Pair with a longer sweater or flannel and you are turkey-stuffed approved for a comfy Thanksgiving or Christmas party! I love to dress mine up with a cute bootie or down with a slouchy tee, flannel, and converse.
OKAY, now for CHRISTMAS! (Santa...I know him!)
Of course, my go-to is a Sarah Collins Brand tee styled in all kinds of ways. This year we decided to go with the ever so great Comfort Colors style which goes great with leggings and jeans. Pair with a flannel and you're set for a casual Christmas look!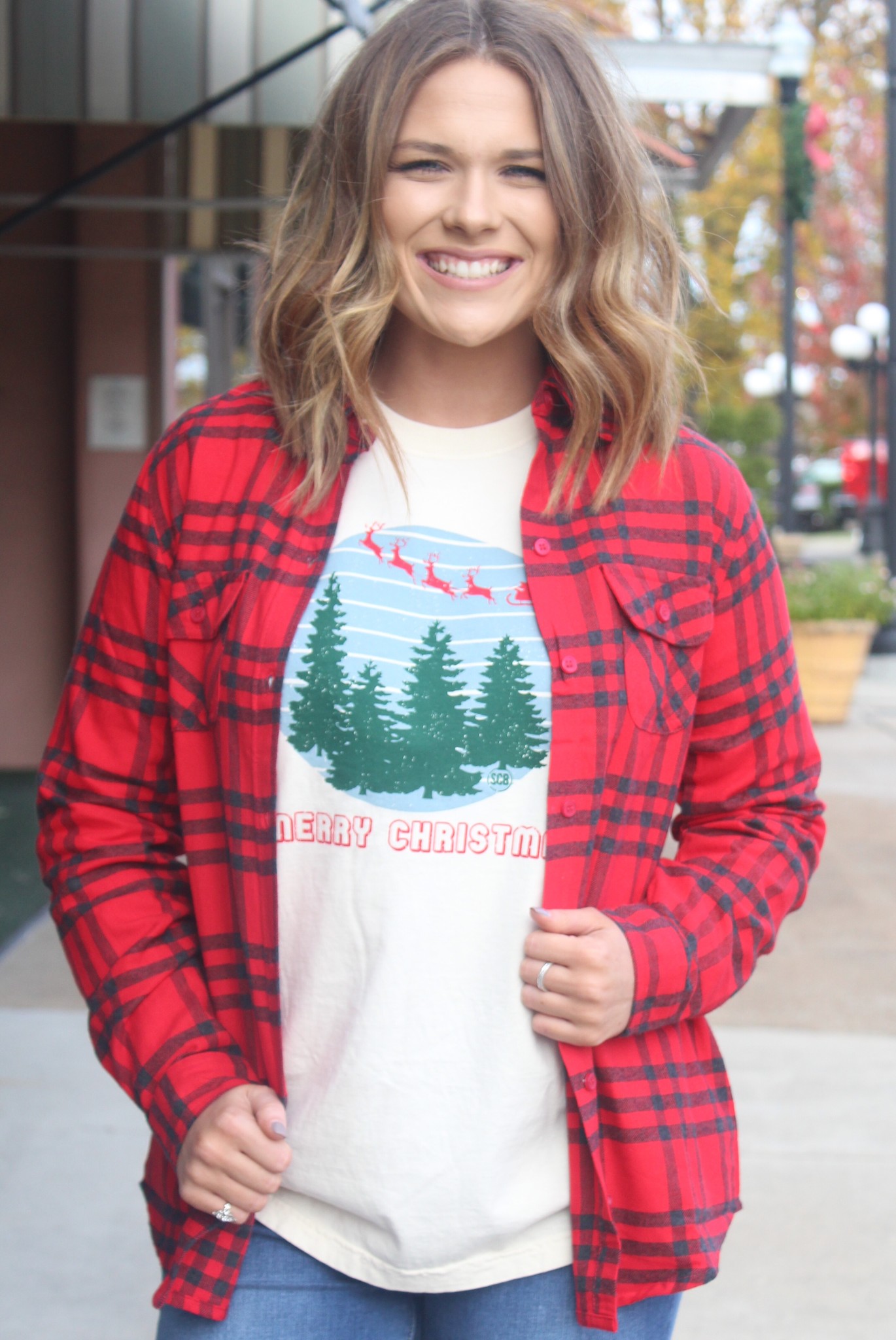 If you're like me, you have different degrees of casual...and sometimes you don't know just what to expect with a certain Christmas party or crowd when someone says "just dress casual." To me...there's nothing worse than being underdressed! If you are wanting to play it safe with outfit choices, I would totally recommend cute layering. Its great because you can adjust accordingly! Here's a perfect example: jeans, a basic long sleeve, and a long cardigan. Booties are a no-brainer.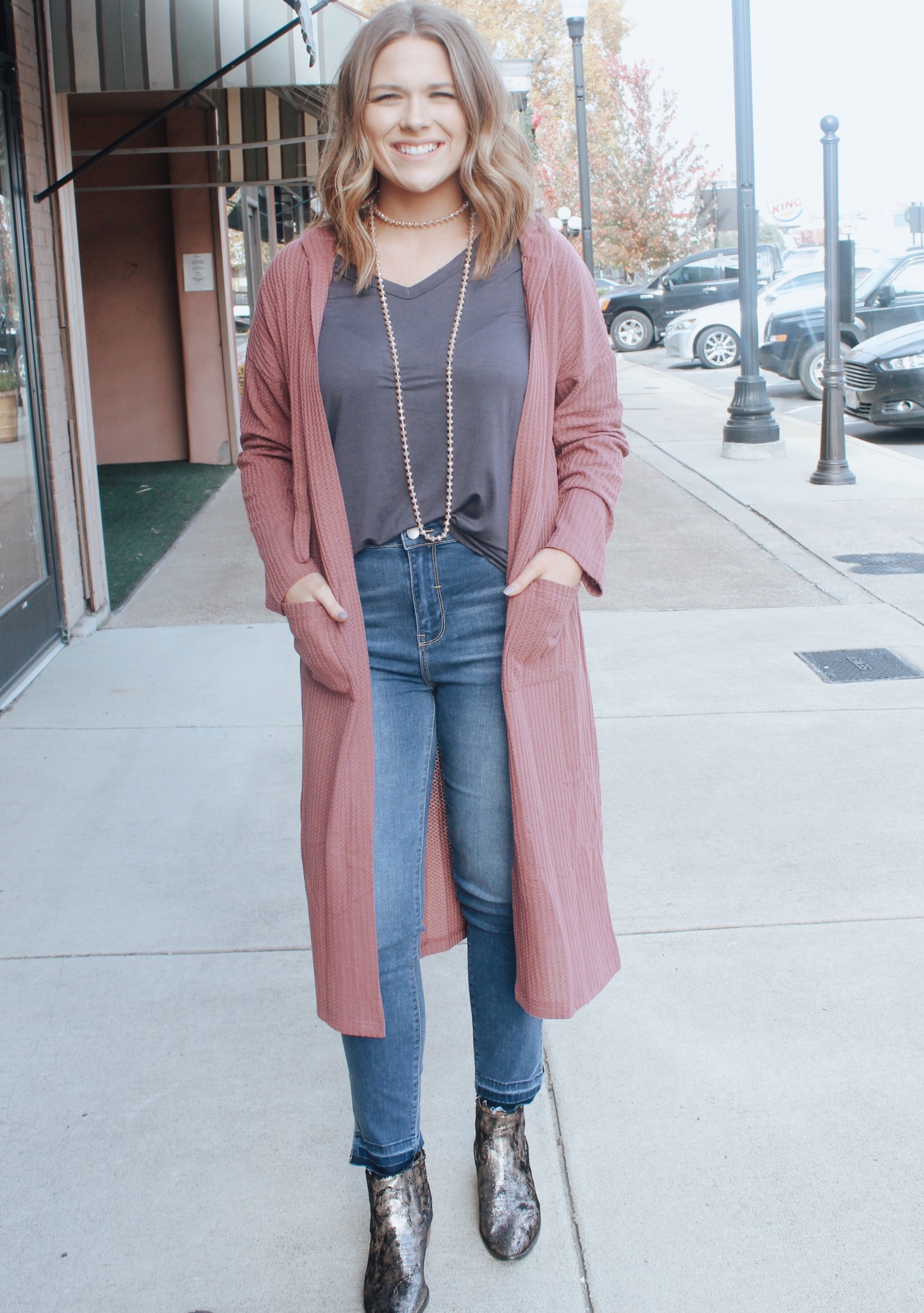 Lastly, I love feeling special in a new, more "fancy" Christmas outfit. I still feel like a litter girl picking out a new favorite dress or skirt to wear to our community's annual Christmas Eve candlelight service.
You can do SO much all season long with mixing and matching our Bamboo Swing Dresses and a Cardigan, or with a skirt, sweaters, and tights.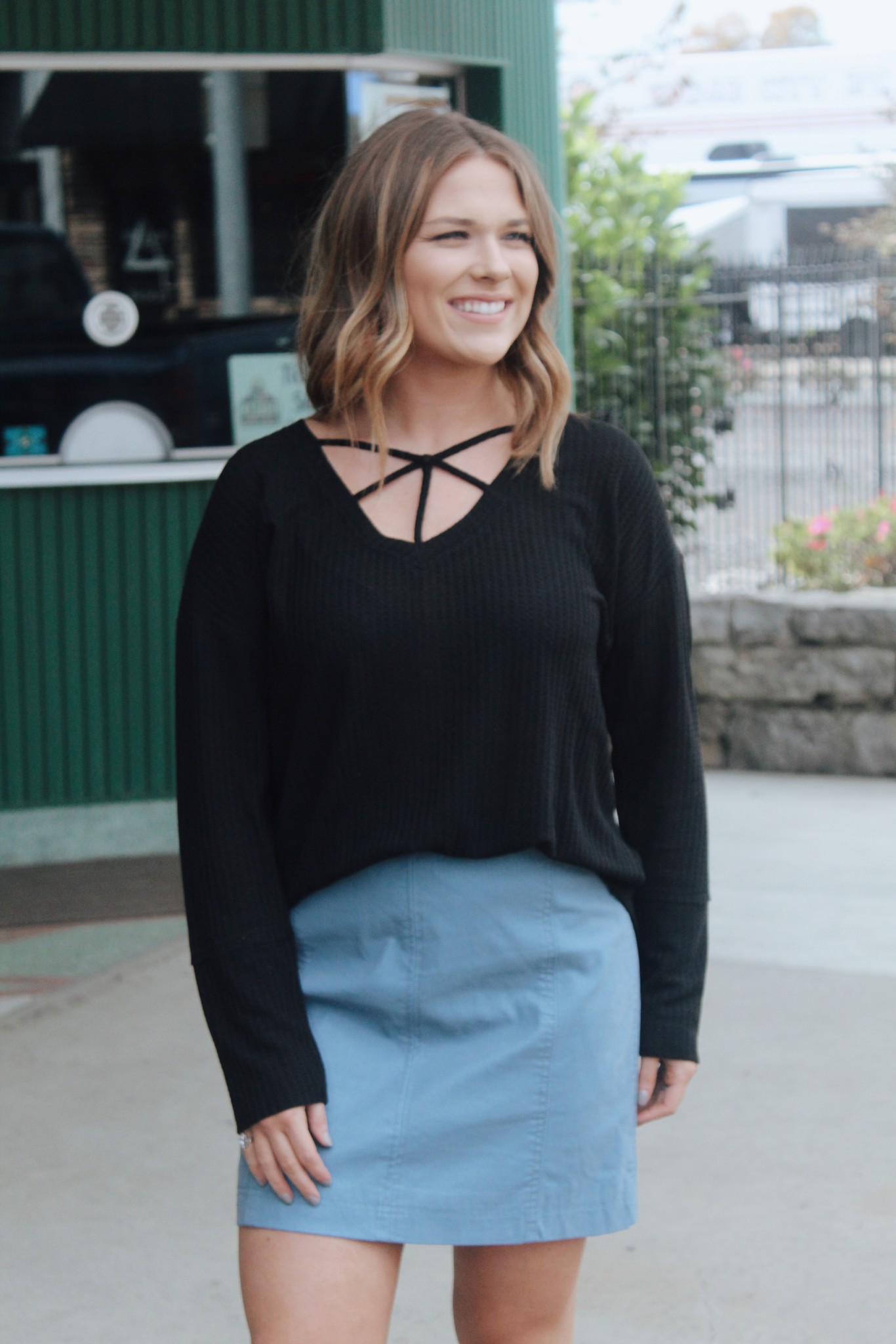 Also, people always ask me what color tights to wear! I would always recommend first looking at your shoes, then going from there. Are you wearing classic brown riding boots? Depending on the amount of tan or grey in your outfit, brown, black, or grey will do. Wearing predominately black?  See how black or grey match! We have the BEST pair of tights that have tummy control AND are reversible! Linked here
Of course, you can shop all of the styles can be purchased here on our site or in our store locations in Lebanon and Cookeville, TN!! We hope this post inspires you and makes Holiday fashion easy this season...because after all...if what you wear is one less thing to worry about...then you have time to focus on the JOY and GIVING that is the true spirit and meaning of this season! 
XOXO
Sarah