Posted on
By Sarah Collins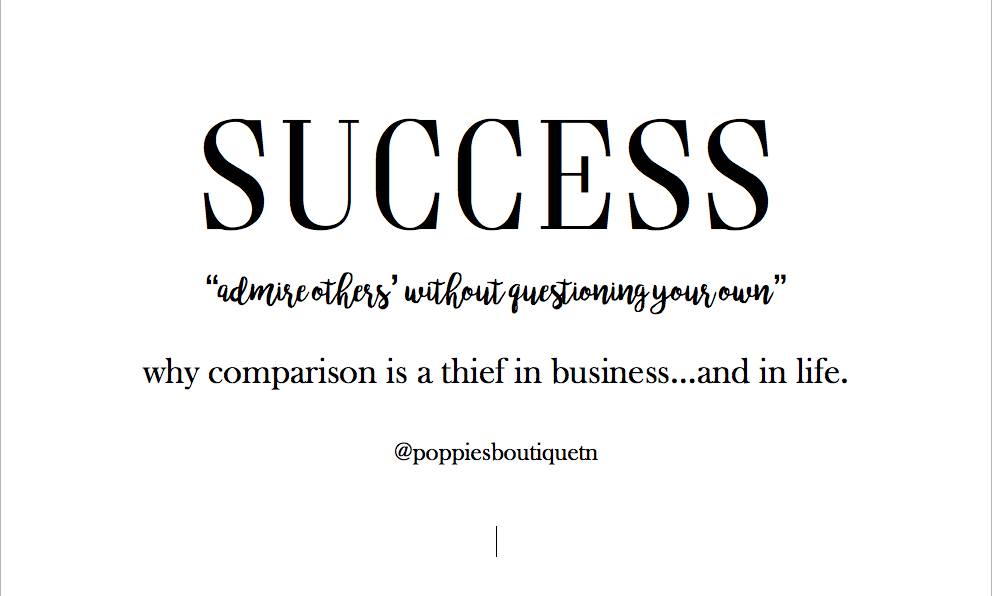 So many times at barn sales, festivals, and in the stores, young ladies will ask me for advice if they were to take the same path as me: starting a mobile business or type of boutique. I used to always blurt out something like, "Make sure you are doing everything business wise legally!" or something silly about time, having fun, or money, which is important, but God has shown me something so much deeper to success than the literal business aspect.
In life, we look at others, and if you're like me, you compare: she's prettier, more in shape, better personality, has a better romantic life, she's more "spiritual" than me...and the list grudgingly goes on and on and on...until you hate yourself, or resent the compared person. I found myself in this endless cycle of insecurity and disappointment all through middle school, and again in college as an adult. It is not only exhausting, but it completely diminishes our calling to love others due to built up bitterness and jealousy...all rooting from a self-concieved notion in your mind that "you aren't good enough as ________." Not only does it harden our calling to love, but it also destroys the truth that GOD has a perfect plan, and person, for us to be. I have so often been consumed by comparison to others, that I have completely neglected the calling of who I can be through Christ. It wasn't until I prayed and truly made the decision to be content with who I am and who God was daily molding me to be (and YES, it is a daily struggle!), that not only found perfect peace in my identity, but also found the perfect relationships in my life.
The same concept goes for business...if not even more than in life. I found that if I compared product, Facebook likes, or even the complete style itself, that business and creativity decreased and I was completely displeased with my career. Think about it: who wants to shop at a store or show interest in a business...that is EXACTLY like another, or even worse, helplessly grasping to be something that they are not?? I have so so much admiration and respect for a business person or artist who succeeds in what God designed for them to do...just for them...a perfect and unique gift and mojo! WOW! What a concept?!? And, no lie, starting a business is hard. You almost can't help but to compare yourself and feel somewhat inadequate at first. BUT, a friend recently spoke at my church and encouraged us that the grass may seem greener on the other side (wishin' and hopin' and thinkin' and prayin' to be as successful as someone else), but what is important is to focus on the grass that God has blessed you with. If you are dreaming and envious of your neighbor's "yard," not only will that ruin your heart, but that will distract you from grooming your own. It may take some time to see progress, but I am certain that both God and hard work prove faithful.
So, of course, there are going to be multiple businesses that are in the same field: restaurants, clothing, gift shoppes, and the list goes on. So, how do you set yourself apart? I am truly convinced that it is working hard, doing your best, with your own special touch, and grooming your own "yard.." and guess what...you can compliment, love, and hang out in your neighbors yard, too, without ruining yours! Isn't that amazing?!? I have to say, that in my experience, it is SUCH a humbling experience to do what you love, and have other people doing what they love lifting you up too. It is a perfect cycle of both support and success. You'll be surprised at the peace and contentment you will find in life, and in business, when you discover who you are, work hard at that, and discover a love and support for others (or other's businesses), because you know you are doing you, the best that you can do it!
Colossians 3:23-24
New International Version (NIV)
23

Whatever you do, work at it with all your heart, as working for the Lord, not for human masters,

24

since you know that you will receive an inheritance from the Lord as a reward. It is the Lord Christ you are serving.
Philippians 4:11-13
New International Version (NIV)
11

I am not saying this because I am in need, for I have learned to be contentwhatever the circumstances.

12

I know what it is to be in need, and I know what it is to have plenty. I have learned the secret of being content in any and every situation, whether well fed or hungry, whether living in plenty or in want.

13

I can do all this through him who gives me strength.